Dave's Vincent

These are pics of my 1951 Series C Vincent Black Shadow, engine # F10AB/1B/7692, frame # RC9592B/C. I bought this bike in November 1998; it's a good example of a bike that's become a legend. Only 1334 of these bikes were made, out of a total postwar production for Vincent twins of 6645.

This one was road tested at the factory in Stevenage, Hertfordshire England on October 1, 1951 according to the works records. Two days later it was shipped to Andrews, a distributor in the U.S. Canal Zone in Panama. (Because the Vincent's performance was famous worldwide, and because postwar England needed to export as much as possible, many of these machines were sent overseas.) This bike has had seven previous owners, spent many years as a basket case and survived an earthquake. It was in decent mechanical shape, but needed a bit of sorting out and a fair amount of cosmetic work. Many Vincent parts were stainless steel, but others were cadmium-plated. Most of the latter had lost their plating and developed a coating of rust, probably due to the bike's former residence in humid Florida. These photos were taken shortly after I acquired the machine.

(Click on the pictures to view full-size images.)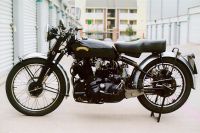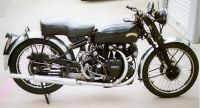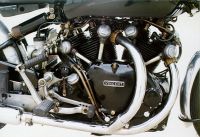 &nbsp Here are photos from March, 2003. Quite a bit of work has been done to the bike, although it's far from perfect. Since I plan to ride it regularly, there seems little point in trying to keep it in "better than new" condition. But it's mostly at original specification now. The hardware has been cadmium-plated, tank repainted, wheels rechromed and restriped, handlebars powdercoated in the original black and the controls rechromed. The engine has the finish applied when it was rebuilt in 1989. It's not particularly high-quality, but I'm told it's comparable in appearance, if not durability, to the black stove enamel used at the works.
The Black Shadow Story:
Story of the development of the Vincent Black Shadow, by Phil Irving.
HST on the VBS:
Excerpts from the writings of Hunter Thompson which deal with the Vincent Black Shadow.
Vincent Advertising:
Ads for Vincents from the American magazine "Motorcyclist"
&nbsp
Vincent books:



Black Shadow ad from British magazine 'Motor Cycling', December 1948




In 1995 Bernard Li, president of Eagle One Industries, tried to revive the Vincent marque by developing a new model, the "Black Eagle". This brochure was issued to announce his plans, which have been unsuccessful. Click on the links to view brochure pages in a new window - these are large files, for readability.
Cover &nbsp Inside &nbsp Back

&nbsp
Vincent Spares List:
Here's the Vincent Series B and C Spares List in Microsoft Excel spreadsheet format. Warning - large (3.9 MB) file! It's compatible with Excel 97, 95 & 5.0, and the archive includes JPEG scans of the spares drawings. There are hyperlinks in the spreadsheet, so that when you click on the drawing number for a part, the drawing is displayed.

Some caveats:

You need to have a viewer program associated with .gif files on your computer.
I'm not sure if hyperlinks work in pre-97 Excel releases.

To deploy the hyperlinked spares list: download the zipped file, unpack with WinZip, PKZip or equivalent, and open the spreadsheet with Excel. Keep the .jpg files in the same directory. If you have any problems, contact me.

&nbsp
Photo Galleries:
Here are photo galleries of the infamous British Singles Rides in west Texas, my Harley Davidson and perhaps other miscellany.